In surveys examining peoples' sexual fantasies threesomes tend to be very popular. However, more people fantasise about threesomes that those who actually have them. For example a Danish study showed that 30% of people had fantasised about a threesome in the last year, whereas only 2% had actually had one. Perhaps the step from fantasy to realisation is too big for many. It's also the case for sure that we don't have to live out all our fantasies. Sometimes a fantasy may be best off staying at just that. However, if you are in a committed relationship, and you are curious to try a threesome, how can you go about it and what should you think about?
Talk to your partner
Step one is perhaps obvious but it is surprising how many couples don't talk about sex enough, or share their sexual fantasies. To be honest, if you can't talk about having a threesome, you definitely should not have one. Opening your bedroom to additional people requires a secure bond between the two of you, a lot of mutual trust, and open communication. If you struggle with how to broach the subject check my article on how to talk about sex here. A sexologist and couples therapist can also help with facilitating this communication and offering tools for self-help.
If one of you is insecure regarding your partner's commitment to you, if you often experience jealousy, or if you are insecure about yourself or your body, then I suggest working on those things before subjecting yourself to a third person entering your relationship. Drama is best avoided and at the end of the day this should be fun and actually add something positive to your relationship, not the other way around.
What do you want to get out of the threesome?
If you have talked about it, you feel you have the secure bond and foundation to handle it, and you both agree it's something you want to do, you can proceed. The question then is why do you do it? What do you want to get out of it? Maybe it's as simple as just having the experience of an additional person. Or perhaps one or both of you have specific fantasies or preferences?
Perhaps one of you is into watching, perhaps you want your partner to experience someone or something that is different from what you can offer, maybe you want to do some kind of role play. The reasons can be many but knowing what you want to get out of it can help when you start looking for a candidate to join you. It is important that both parties are onboard. "Taking one for the team" is rarely a great idea when it comes to sex and you risk ending up with regrets. So, don't do it just to please your partner, but do it because you both feel it's exciting.
Who should you have a threesome with?
Agree on the gender and sexual orientation of the person you are looking for (if it matters). Heterosexual men tend to favour women but don't assume this must be the case. What do you both want and fantasise about? What are the pros and cons of the options available?
Sometimes a threesome can be an opportunity for one party to explore a part of their sexual orientation that otherwise they can't do in relationship. For example if one person is straight or gay, but the other is bisexual. Maybe the gender isn't that important but perhaps you are looking for someone with a specific skill or style that you can learn or be inspired by? A third person brings a great opportunity to learn something new about your sexuality. Therefore, if they are different to you, don't look at that as a threat but rather as an opportunity!
Are you looking for a specific age range? What's important about them in terms of their sexual preferences, looks etc?
Whoever you are looking for, remember this: the third is a human being and not threesome equipment. All people have emotions, boundaries and should be treated with respect.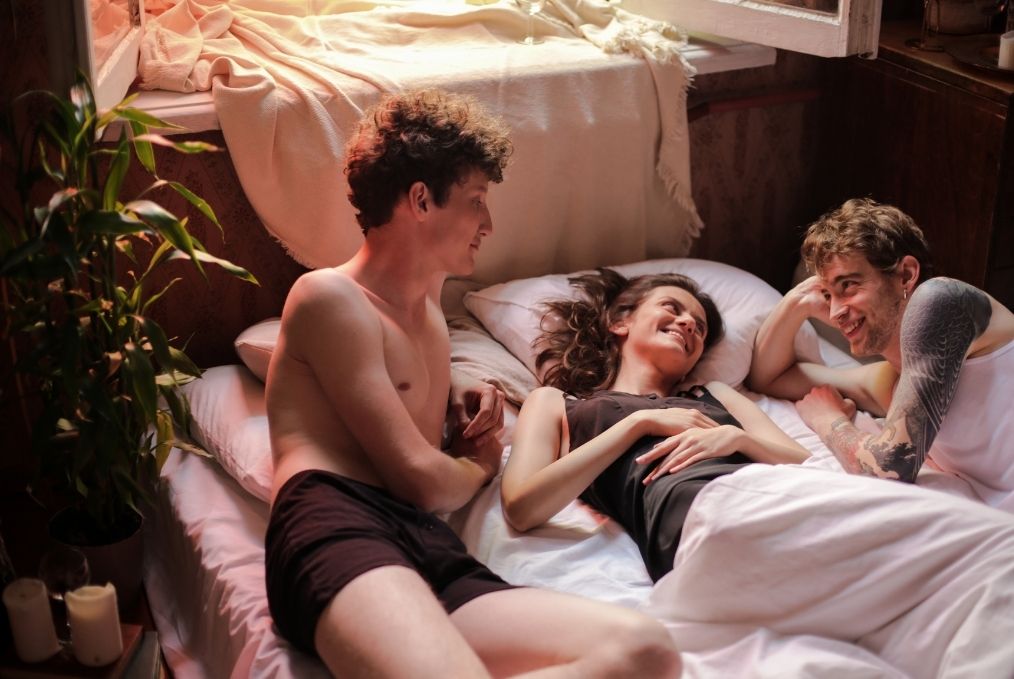 How to find a person to have a threesome with?
Someone you know?
The first question to ask is perhaps whether you already know a candidate. Perhaps you have a friend or acquaintance that you both fancy and that you could ask. This option assumes that all of you will be ok with the scenario and that you can go back to being just friends afterwards without any drama.
Hit the bar?
If you don't know anyone or prefer someone you don't know, you have a few options. Because of COVID, just hitting a bar isn't really on the cards right now and won't be for some time, so it's probably easier and safer to look for someone online.
Online dating?
You can for example use a regular dating app and create a couples profile. Be completely honest upfront about what you are looking for. Don't use one person only to lead or lure someone in. This is unfair and disrespectful to the person you are wanting to meet.
If you are worried about someone you know suddenly seeing your profile you can use more anonymous types of dating sites. For example on sites for hookups or couples dating (google to find options available in your country) you can find singles looking for couples without revealing too much of your identity initially. The benefit of this way of doing it is that you can find someone who is experienced with the setting. In order to avoid unnecessary drama and potential jealousy, it can be easier to arrange a threesome with someone who has done it before, knows what questions to ask you, and who respects you as a couple. It is also typically possible on these sites to check references or validations so that you know that you will be meeting a genuine person.
Erotic clubs?
A third way of doing it is to visit an erotic / swinger club where both couples and singles are welcome and meet people that way. The availability of such places depends where you live, and of course is limited right now anyway because of COVID.
What to do when you find someone?
If it's someone you don't know from before, get to know them. You can chat, speak, do a video call, then meet for a drink or coffee if it seems promising. Do you have three-way chemistry? Is everyone happy? If not, never be afraid to stop there. It's important that it feels right.
If after meeting in person it feels right then all you need to do is arrange the actual date. It can be useful to discuss if you have any particular expectations, ideas, fantasies and preferences. Do you as a couple have any "rules" that the person should know about? What about your new play mate? Spelling things out upfront can avoid awkward situations in the moment. For example most people would probably say a condom is a must if penetration is on the cards. Is anything off limits? It's much easier to know this before you begin.
Also, what do you expect in terms of dynamics if anything? Is anyone taking centre stage for example? This can take many forms but I do have one suggestion… If you are a man in a heterosexual relationship who took the initiative for the threesome to happen, do not put yourself in the limelight unless your partner has specifically asked for it. Why? Firstly, if it's two women then the stereotypical porn scene is not really that sexy for women in reality. Instead, treat the women like the queens they deserve to be. Secondly, if it is with another man, give your partner the chance to experience him. After all, she can fuck you any day of the week so drop the ego on this occasion if you have one. 😉
Know your rules but don't have too many
On the topic if anything is off limits it is worth mentioning a few things here. No-one should ever feel that their boundaries are being crossed in sex and it is good to have boundaries and communicate them. However, try to balance this with keeping rules simple and to a minimum. It is not fun to have sex if you feel like you are stepping into a mine field where you have to watch your every move.
If as a couple you have made yourselves a long list list of rules, chances are you are not quite ready for the experience and maybe you should try something else first or talk about it some more. Inevitably, having sex means being intimate, at least if it should be good sex, and so you need to accept that your partner will, for a limited period of time, have a close intimate encounter with another person. The less complicated you can make it, the better for everyone involved.
Date check list for a threesome
As for the date itself it's up to the three of you how and where it should happen. A hotel room can make for a neutral meeting place if your home feels too personal. Also, don't underestimate a sexy atmosphere. No one wants to wade through kids' toys, step on cat food, or worry about waking the neighbours up.
Should the third person stay the night or go home afterwards? Agree beforehand.
Cleanliness is a given. Fresh shower, towels available if anyone wants a shower half way through.
Alcohol can be relaxing but too much of it can spoil the fun as it typically impacts negatively on sexual function and ability to orgasm. So, keep it to moderate amounts if you have it.
Do you go straight into the act or do you have dinner first or some other activity to create a nice atmosphere? If you have dinner, keep conversation topics sexy. Politics, kids, COVID or death are perhaps among the ones best avoided.
Have a way of checking in with each other that you are both ok. Guessing and worrying is not fun. You can agree to speak openly or you can have some sort of sign or gesture, like for example pinch once = everything is great, pinch twice = I need some help, or pinch three times = get me out of here!
It's important that everyone feels they can pause or stop if they are not comfortable, including the third party. You might want to just talk about this beforehand.
Have extra condoms to hand if penetration is involved. Swapping partners or holes means changing condoms.
Treat the third person with respect.
If you have rules, make sure you have communicated them and don't step over anyone else's boundaries knowingly.
Laugh and have fun. Nothing makes sex more boring than being overly serious. If you can chat and laugh and not take it all so seriously it will be a lot more fun. Relax and go with the flow. It's not a performance.
And last but not least, in current times perhaps a COVID test should also be on this list…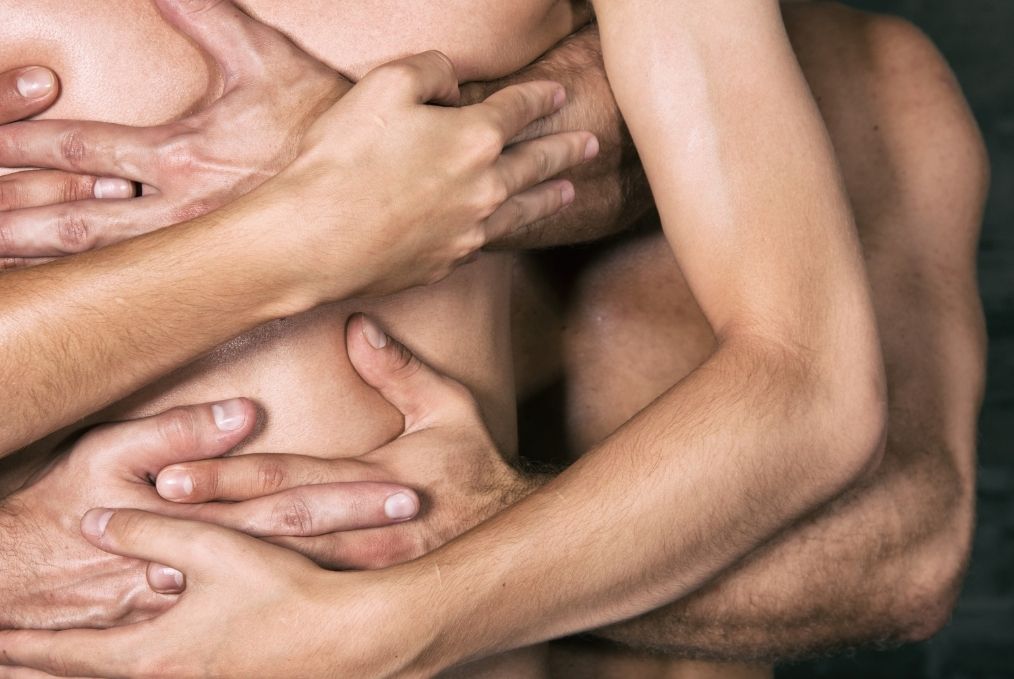 Reconnect afterwards
After you have had the experience you may need to reconnect as a couple. Talk about what happened, how it was, feelings that might have surfaced. You may not know in advance how you will react. Maybe you were jealous even though you didn't think you would be. That's perfectly ok, but talk about it. Feelings can never be wrong and we can't control them, but we can deal with them.
What went well? What do you like? Was there anything you didn't like? How did it feel? Would you do it again? Would you do anything differently next time? What did you learn? What are the main takeaways for your own sex life? Those are just examples of questions you might want to answer and discuss between you.
So, those are my tips for how to have a threesome with your partner. If you have experiences or tips to share I welcome your comments! If you are interested in booking a chat with me, see here. To learn more about consensual non-monogamy, check my article on this topic here.