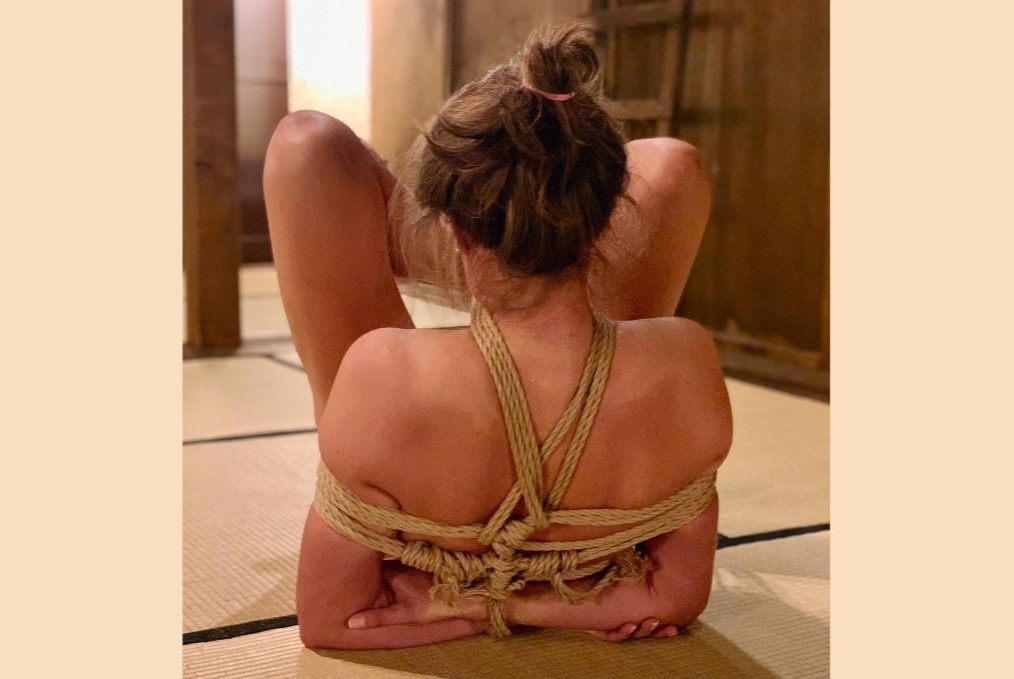 Kinbaku: tie me up to set me free
We've come down three sets of stairs to the basement of a building a few kilometres outside the centre of Copenhagen. If it wasn't for a small paper sign placed half way down you wouldn't know what's here. Once though the door industrial meets Japanese in the airy and welcoming interior. Lounge music is playing in the background. Large gym mats are placed in a square pattern across the floor. Above each hangs a thick and strong bamboo culm from the ceiling in jute rope. Sheer hanging screens divide some of the spaces for more privacy but with enough transparency that you can make out what is happening on the other side. None is entirely closed off and some have no screens. There is a large corner lounge sofa where you can hang out and watch the activity on the floor whilst sipping on a coffee if you are not participating.
In perfect harmony with the background music you can hear the sound of ropes as they gently hit the floor, sensually stroke someone's skin, are being collected up into neat bundles, or are being thrown over the bamboo culms for suspension. The ambience is as relaxed and calming as it is charged with concentration and erotic energy. Deep and relaxed breathing is interrupted by expressions of high sensitivity and pleasure. There are several rooms on the 400 square metres of basement. Tonight, in the main room there are about 13 couples. Most work on the floor, but some later on suspend their partner into the air, floating in beautiful positions. Some people are fully clothed, some naked or in underwear. You can be yourself here, come as you are, and do whatever you are comfortable with. As long as rope is involved, there are no limits…
We're at Kinbaku Lounge in Copenhagen, the city's home to those who have a love for, or are curious about Shibari or Kinbaku, Japanese rope bondage.
From ancient martial art to modern erotic bondage
Shibari means "tying". In Japan this doesn't necessarily refer to rope bondage specifically but can mean any kind of tying. Kinbaku on the other hand means "tight binding" and in Japan this term became associated with rope bondage in the 1950's. Both terms, Shibari and Kinbaku, are used interchangeably to refer to rope bondage. I will continue to use Kinbaku in the rest of the article.
Kinbaku has its origins in Hojojutsu, a martial art that originated in ancient Japan and which was the art of tying prisoners of war. There were more than 150 schools of hojojutsu in Japan between 1603 and 1868. Criminals were tied differently depending on from which class of society they were and the jurisdiction in which they were imprisoned. A notable characteristic of Hojojutsu is that the tying combined an aesthetic consideration (it had to be beautiful) with effective restraint. Tying was also a form of torture used amongst other methods to get prisoners to confess to their crimes.
Torture and morbidity has always been a source of fascination for humans in different cultures. So too did the brutalities in feudal Japan inspire its artists and became part of various forms of popular culture. Through theatre, and later photography, magazines and movies, the modern form of Kinbaku was eventually formed. The first photo book of Kinbaku in Japan was called "Study of Torture" and was published in 1928 by Itoh Seiu who became known as the father of modern Japanese Kinbaku and who was very influential in its development from martial art to erotic bondage art. Japan is known for its erotic art such as Shunga, but in his publications, Itoh presented for the first time in Japanese art, images that combined eroticism with sadomasochism.
One might ask how it is possible that an ancient martial art and torture method can be turned into erotic art. In the book "The Beauty of Kinbaku" Master K explains it like this:
"It was a slow process involving many artists, incidents and cultural factors. Shibari/Kinbaku has evolved because of Japans tolerant religions and their attitudes towards sexuality, its history and martial arts, its 250 years of self-imposed isolation from the West, its love of beauty, art, form and pattern and the mysterious alchemy that connects all of these."
The history is indeed long and fascinating and if you are interested the above mentioned book is a great source for further information.
What is Kinbaku today?
Kinbaku may stem from ancient torture methods but in its modern form the techniques have been adapted to be safe for the person being tied. Some people place Kinbaku under the BDSM umbrella (Bondage, Discipline Sadism and Masochism) whereas others mean that they are different. It can for sure be a component of BDSM practise and enhance sexual activity but it doesn't have to be sexual.
The person who ties is referred to as the rigger but can also be called rope top. The person being tied is called model but it is also common to hear bunny, rope bunny or rope bottom. Together, when they play, it's called a scene.
For someone not familiar with bondage, dominance and submission, or sadomasochism it can be easy to get the idea that the model is an unwilling victim subjected to some kind of torture. This is absolutely not the case. Communication, consent, care, and collaboration are key components in the process. Where the old rope torture was hardly consensual, this modern form of bondage most definitely is.
Kinbaku is about many things. It is power exchange, beauty, submission, dominance, helplessness, relaxation, focus, creation, pleasure, mindfulness, art, release, performance, strength and can involve sadism and masochism.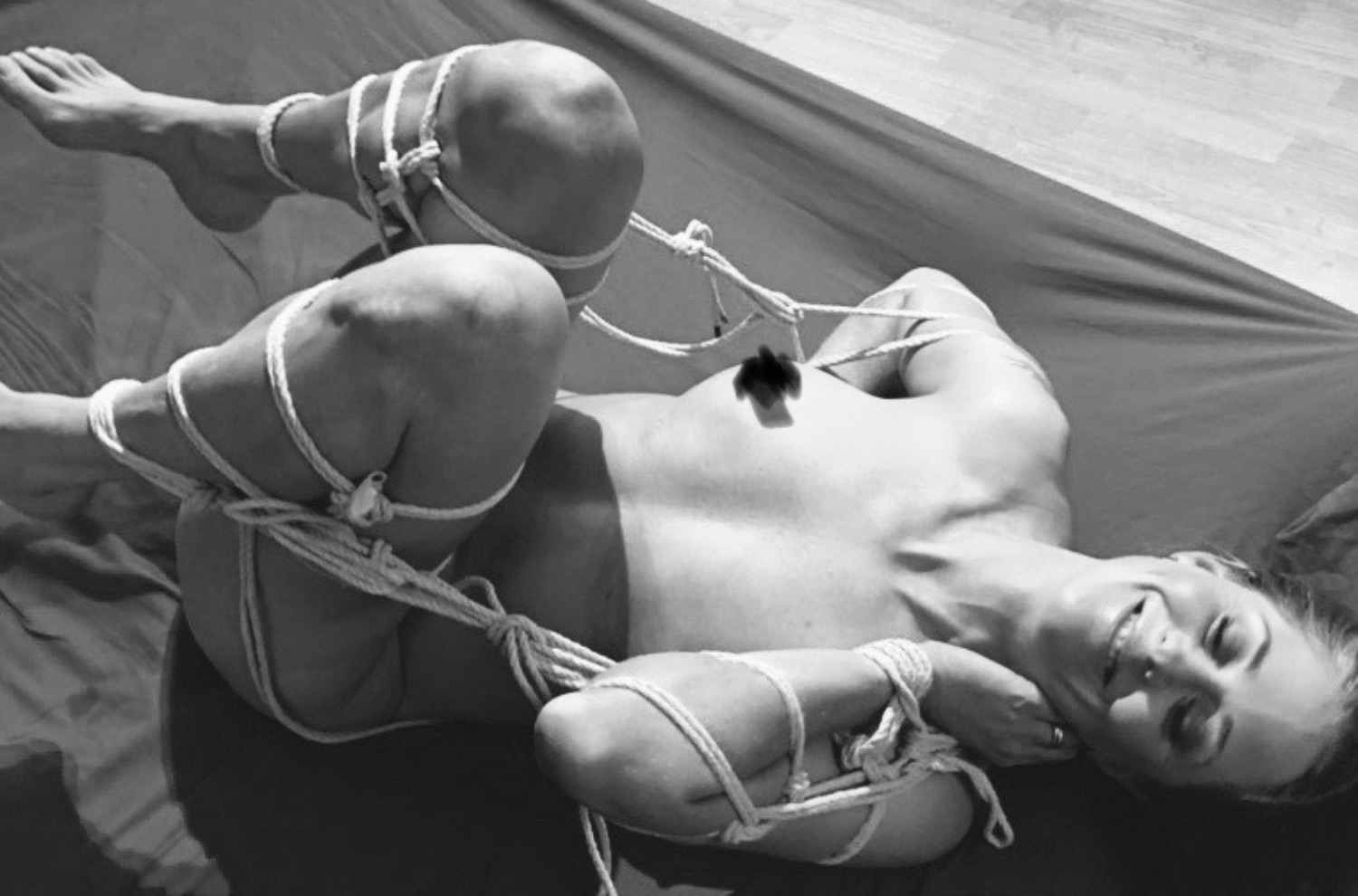 What is the appeal?
The appeal with practising Kinbaku will be different for different people. Ask ten persons and you will probably get ten variations.
I personally enjoy the release and sense of relief that comes from completely submitting myself to someone else. It is a deep trust and when you can let go you are free. You do not have to control anything, you do not have to make any decisions, you can just be and trust in the other person caring for you and deciding what is going to happen. It means that you are in the now, free of distracting thoughts. I also like the intimacy, the closeness, the sensuality, and the beauty that is created. Restrained sex with someone I trust is also something I enjoy and it can form part of Kinbaku.
Someone who is a rigger might be drawn to Kinbaku for any number of reasons. Perhaps they are an artist who have been perfecting their skills for years. Maybe they enjoy pleasuring and caring for the model; domination and being in control; the creative process of tying; creating beautiful, intricate patterns; sending their models into an elevated state of mind (sub space) or creating it for themselves. Perhaps they are a sadist and enjoy inflicting pain on a consenting model who might be a masochist.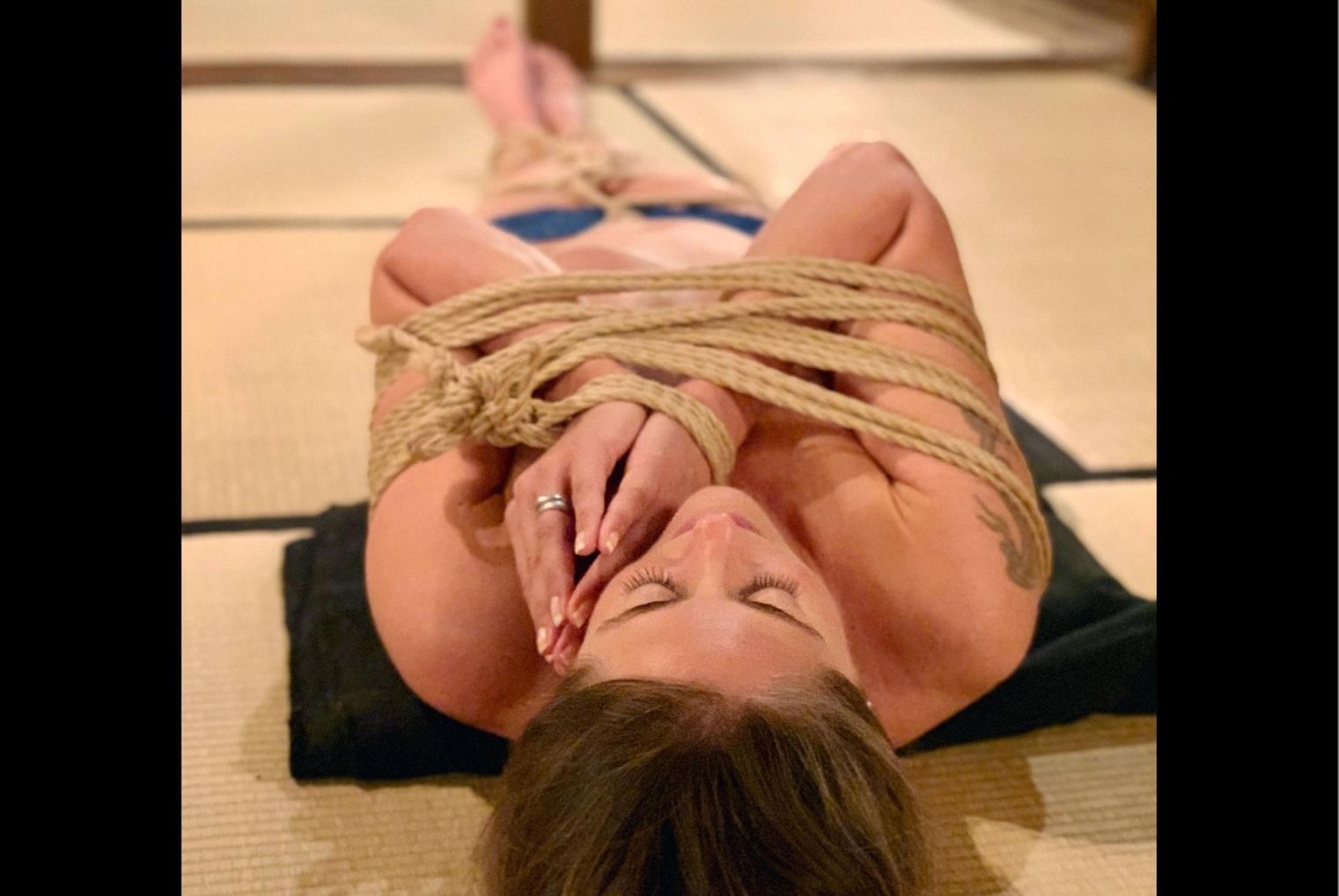 Who practises Kinbaku?
The answer is absolutely anyone. Like with any "underground" erotic activity and sexual preferences deemed by society to be "out of the ordinary", many people have a tendency to judge. Lack of knowledge may contribute to misunderstandings about what something actually is or judgements about those who practise.
Some people who engage in Kinbaku may be sexual partners in life. Others may be friends, professional play partners, performance artists, or hook up for bondage without necessarily knowing each other since previously. Some people may be in a romantic relationship but have a separate play partner for Kinbaku because their partner isn't interested or physically capable.
It's important to point out that although one can look at Kinbaku as a fetish, it doesn't mean that people who practice it are not completely normal people. Rope enthusiasts come from all walks of life, careers and social backgrounds. They may be your neighbour, your doctor, your kids' school teacher, a student, a CEO, the cashier in the supermarket… So, if you haven't tried but are curious, fear not, you will most likely find a welcoming and open-minded community.
How to get started
If you are interested in getting started you should educate yourself as there are aspects you need to know of in respect to equipment, and there are safety concerns. It's not as simple as having a piece of rope and tying someone up! Kinbaku requires skill but the good news is that you can learn it.
The rope is typically 6mm thick Jute rope though Hemp and Linen ropes are also common and the thickness can vary slightly. The rope is cut in lengths of 7.5-8 meters per piece and should be treated before being used. You will find instructions for this online or in books. You are unlikely to find this kind of rope in a sex toy shop. The so-called bondage ropes sold there are typically not made for Kinbaku. Instead, seek out a specialist rope shop or a good hardware shop.
In some bigger cities there are Kinbaku/Shibari studios. They often offer workshops, classes or private tuition. Learning directly in person from someone who is experienced and skilled is a great way of starting out if at all possible. There are also now many books on the subject, websites and YouTube videos. Google is your friend! Find out how you best learn and seek out the methods that work for you.
If you would like to get started as a model but don't have anyone who can tie you, then see if you can seek out a studio, or find a rigger via reliable online forums. As a model you put yourself in a vulnerable position. Therefore it is important to know that you can trust the rigger and know something about their skills and experience.
For inspiration and communities you can follow kinbaku & shibari practitioners on social media. There are also several large forums on for example fetlife: https://fetlife.com
If this article caught your interest and you would like to discuss it with me, please feel free to book a consultation. You can also send me comments in private via my contact form or share comments below which may be made public unless you say so in the comment.
Sources:
Nawakari, Shin. Essence of Shibari: Kinbaku and Japanese Rope Bondage. Mystic Productions Press
https://kokoro-kinbaku.com/category/hojojutsu/
Master K. The Beauty of Kinbaku. King Cat Ink; 2nd Edition (December 6, 2014)
Gestalta, Shibari Suspensions – A step by step guide, Kahboom 2019